Waterina Suites Site Plan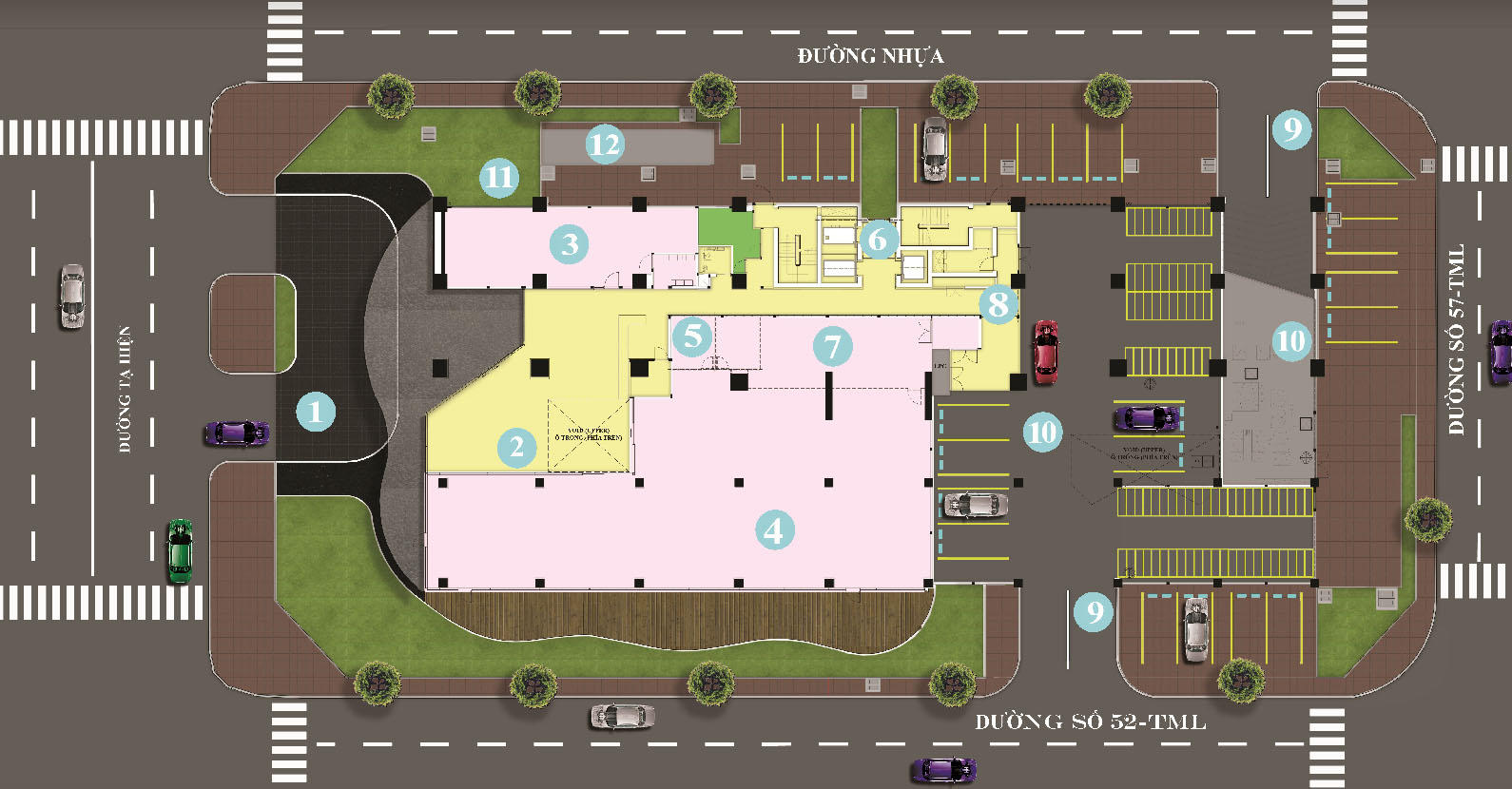 1. Main Entrance Gate

2. Lobby

3. International Clinic

4. Restaurant
5. Restroom

6. Elevator

7. Convenience Store

8. Entrance from Parking Lot
9. Entrance to Parking Lot

10. Parking Lot

11. Landscape

12. Generator (For Emergency)
---
Non-penthouse facilities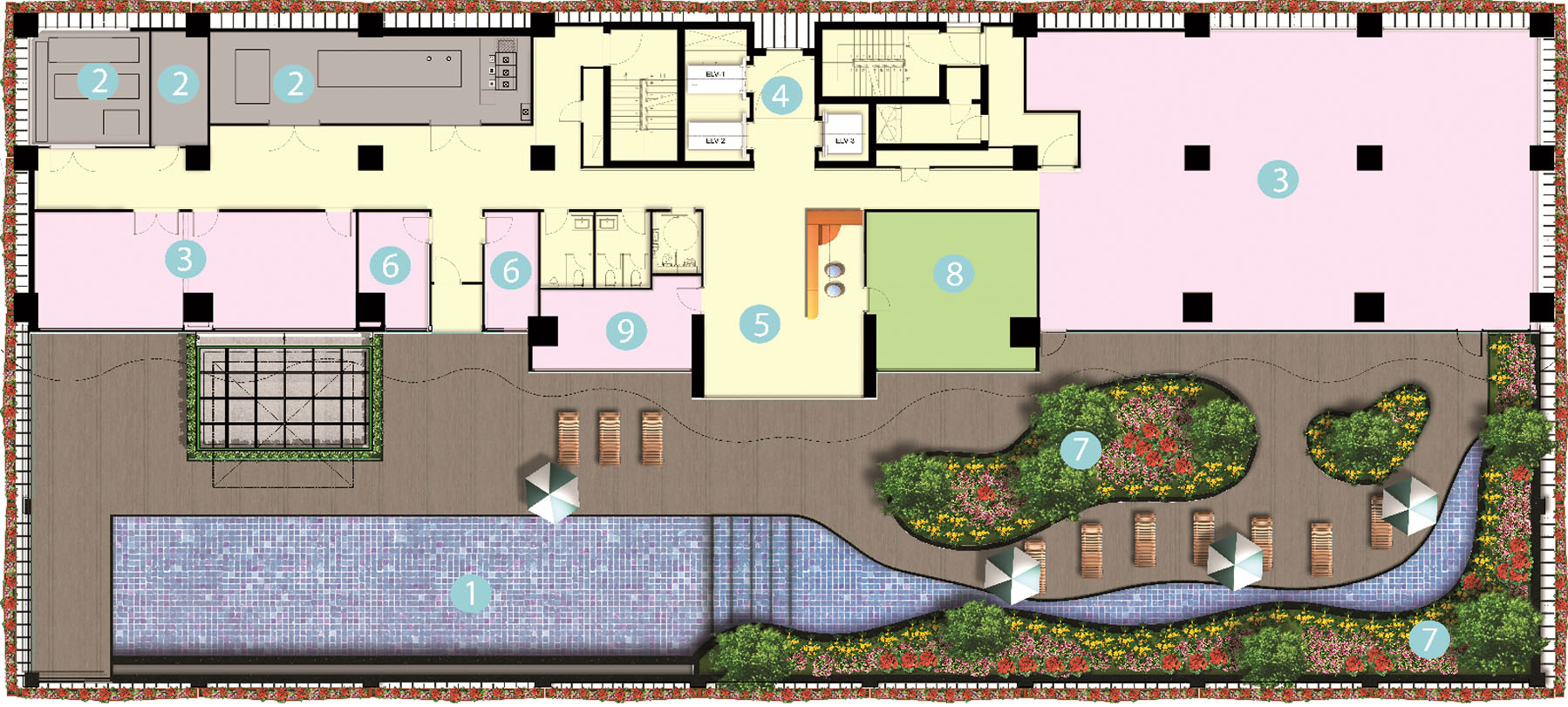 1. Salt Pool

2. Technical Room

3. Gym/ Cafe
4. Elevators

5. Lobby

6. Fitting room
7. Landscape

8. Management Office

9. Business Center/ Library
---
Waterina Suites Facilities
Enter a world where life flows

Inspired by nature in motion
Imagine a unique world inspired by the natural curves of nature. From the rhythmic ebb and flow of the river, the sweet swell of water's movement down to the endless cascading layers of greenery as far as the eye can see. This is nature at its natural element Go ahead. It's time to go with the flow.
---
A breathtaking sight to behold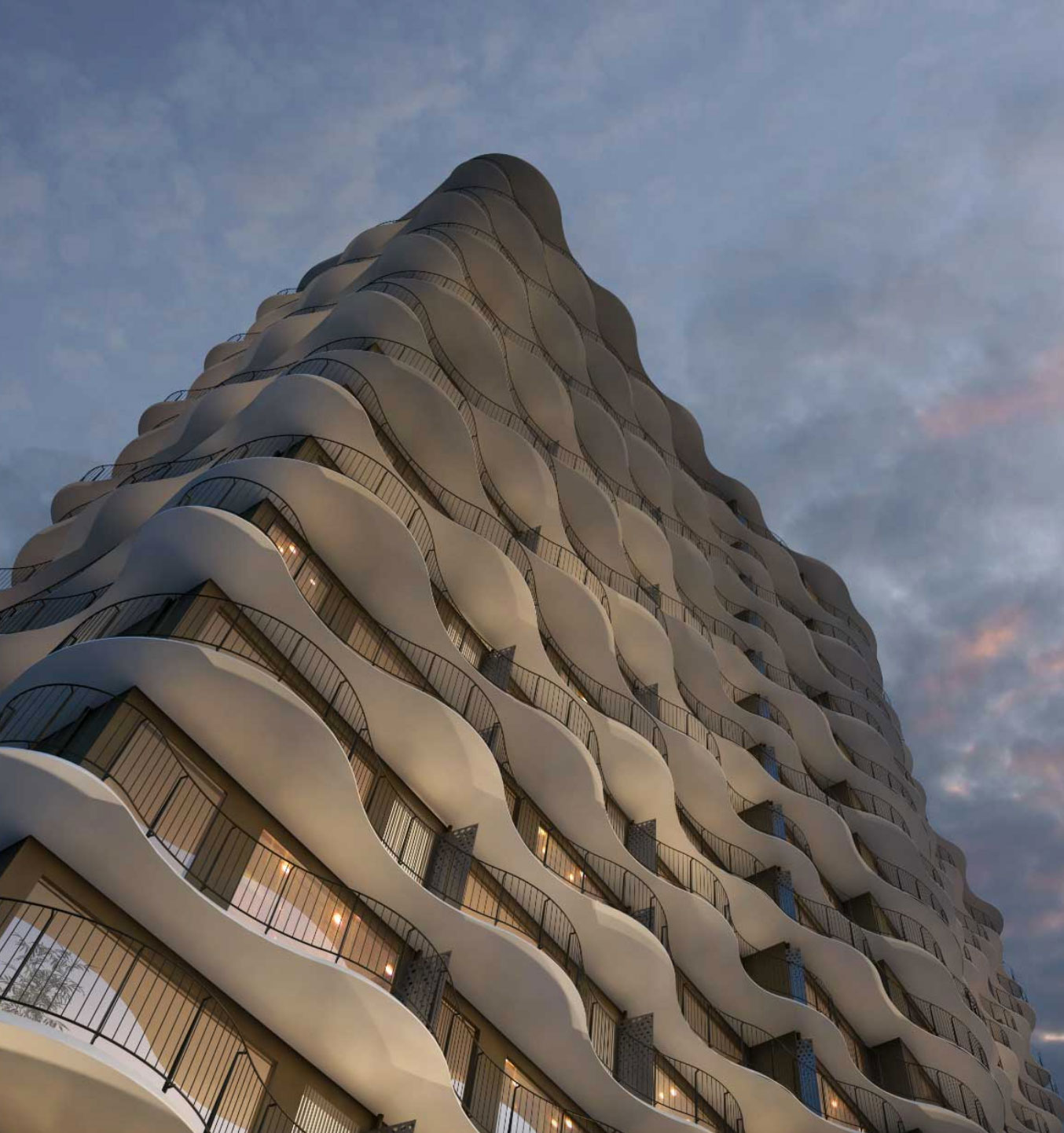 Standing at 25 storeys high with a 3-floor podium that comes complete with its very own car park, swimming pool, spa and business center. With 89 luxurious suites composed of penthouse. duplex and single floor units. Waterina Suites is an eye-catching sight to behold. Set to become one of Ho Chi Minh City's future landmarks. its elegant overlapping curved design is inspired by the organic curve of the Saigon River and the layers of terraced paddy fields.
Its Japanese inspired architectural design is not only aesthetically pleasing to the eye. but was created with the help of innovative and modern technology techniques that makes Waterina Suites truly a unique work of art.
Its podium. which is the designated space for the commercial area, is composed of green walls with horizontal lines to complement the horizontal lines of the residential area. This is a unique world that synergizes the beauty of all things organic with the richness of modern innovation.
---
Step into an artwork every day
Perfect the art of unwinding
At Waterina Suites, immerse yourself in a world that offers you tranquility at its finest. Discover a well-appointed pool for your unique pleasure. Now you can always unwind and relax at a moment's notice in a secured environment.
Stay fit at the well-equipped gym every day. Entertain guests and loved ones at the BBQ pit, which is perfect when it comes to celebrating those special occasions. The possibilities are truly endless here at Waterina Suites.
---
Discover luxury with a life of its own
Make use of other luxurious facilities at the clubhouse.This is your chance to book your very own elegant function room for those important family gatherings. Or simple chill and relax at the fully functional bar after a long day at work with so many exciting things to see and do, the choice is yours to make.
---
Discover a new perspective of space
Experience the height of luxury that offers you the ultimate indulgence in a home at the penthouse of Waterina Suites. it is a unique space where light and air meet. Composed mostly of impressive duplex units, Waterina Suites allows residents to indulge in a vertical space, as well balconies that offer rare, unblocked views with some units giving you different views c4Iig from three different sides of the unit.
---